Hello, we're IN I-Corps
Taking innovation from the laboratory to the marketplace and launching new deep tech ventures in the regions where those innovations are discovered.
The Interior Northeast I-Corps Hub (IN I-Corps) is representative of large portions of the US that are predominantly rural, economically underserved, and struggling to reduce out-migration and restore economic vitality after the decline of manufacturing and extractive industries. It is also rich in natural resources, open space, and strong research universities.
The Interior Northeast I-Corps Hub aims to expand the nation's geography of innovation by developing a regional I-Corps innovation network that can become a repeatable, inclusive model of education and workforce training designed for and by innovators based in rural regions and small cities.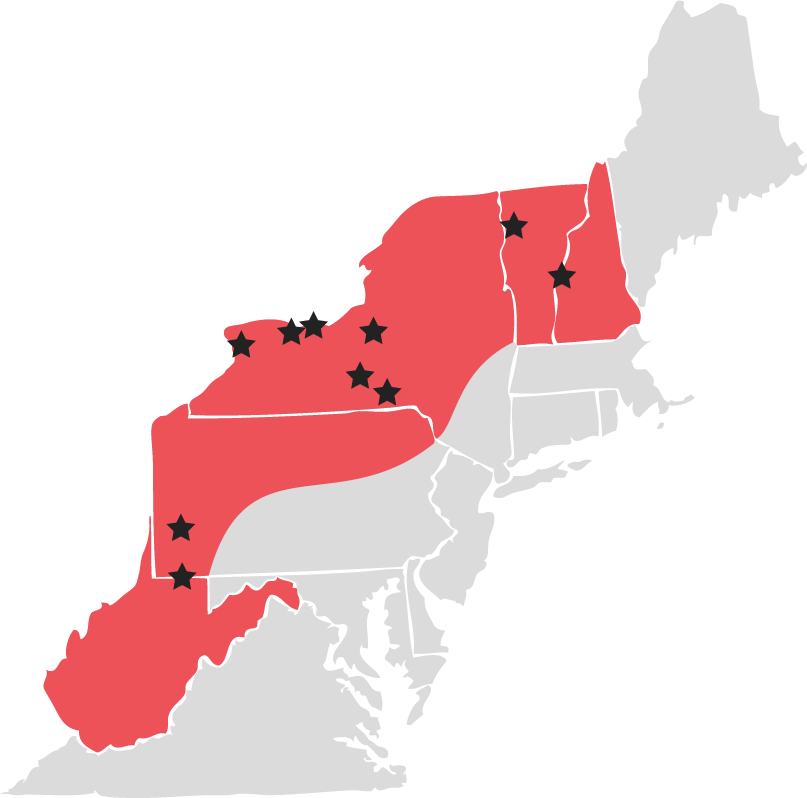 Intentional, Inclusive, Impactful
What We Do
with deep technology expertise and I-Corps experience
New Hampshire, Vermont, upstate New York, western Pennsylvania and West Virginia
enrolled at partner institutions
A Hub of Hubs
Hub Partners
The Interior Northeast Hub Partners are rural and rural-serving academic anchor institutions that span from West Virginia to New Hampshire. These universities bring expertise in developing deep technologies and leading innovation in fields spanning from agriculture and food tech to robotics. They are deeply connected to regional research laboratories and smaller institutions of higher learning and bring direct experience supporting innovators who have chosen to launch new deep tech ventures in their home communities.
All the Hub partners have hosted regional I-Corps courses and sent teams to the national program; seven are I-Corps Sites; three are an I-Corps Node. A particular asset of this Hub is recognized leadership in programming to make I-Corps more diverse and inclusive – for example, a widely-recognized and distributed training on inclusive teaching practices, and videos created in American Sign Language to make I-Corps accessible to the Deaf and Hard of Hearing.
The National Science Foundation (NSF)
I-Corps Hubs are funded and guided by the National Science Foundation. In 2011, the U.S. National Science Foundation's Innovation Corps (I-Corps™) program was launched to support NSF's mission through experiential learning using the customer discovery process — allowing teams to quickly assess their inventions' market potential. I-Corps prepares scientists and engineers to extend their focus beyond the laboratory to increase the economic and societal impact of NSF-funded and other basic research projects.
In 2020, NSF introduced I-Corps Hubs to bring together institutions of higher education within a distinct geographical region to collaborate and deliver a standardized curriculum. The curriculum explores the commercial potential of deep technologies with members of the scientific community and other interested parties in the Hub's region. Hubs form the operational backbone of the National Innovation Network (NIN), which consists of universities, NSF-funded and other researchers, established entrepreneurs, local and regional entrepreneurial communities, and federal agencies. Hubs work collaboratively to build and sustain diverse and inclusive innovation networks across the country. Through its national and regional training programs, Hubs train researchers to bring promising ideas from the laboratory to the marketplace.
View the I-Corps™ Hubs Interactive Map (PDF, 1.44 MB)